Residential Spaces
Capture the Feeling of Smarter Living
Discover how smart technology effortlessly blends into the fabric of your home.
Reimagine How You Enjoy Comfort & Convenience
From the bedroom to the wine cellar, smart technology provides the perfect balance of splendor and functionality to every space in your Dallas or Fort Worth, TX home. Revel in the possibilities below.
Lighting
Lighintg control, design, and fixtures for your home.


Shades
High-precision control of shades provides exceptional style and privacy.


Audio Video
Enjoy unprecedented access to high-quality home entertainment.


Home Automation
Effortless control of all of your home's technology.


Surveillance
Modern security through precise footage and analytics.


Wi-Fi / Networking
Reliable high-speed internet connectivity for entertainment and control.


Home Theater
A luxury theater designed for exceptional quality and comfort.


Hidden Audio Technology
Preserve your design with discreet technology solutions.


Electrical
Full-service electrical solutions for residential projects.


Lighting Control
Set the mood in any room or throughout your entire home with automated scenes to suit the perfect occasion.
Linear Lighting
Enhance architectural features and highlight decorative items with efficient and flexible LED Linear lighting fixtures
Multi-room Music
Create the perfect soundscape throughout one or all of the rooms in your home with instant access to your favorite media sources from your mobile device or system remote.
Wi-Fi
Experience smooth and uninterrupted network coverage across your entire property with strategically located Wi-Fi access points.
Audio / Soundbar
High-end soundbars are convenient solutions for enhanced sound quality and surround sound for movies and shows. Match soundbars to your decor and TV size with custom solutions built to your room specifications.
Video / TV / Display
Bring a world of media to any room with large LED and OLED TV smart TVs. Blend TV displays with room decor with custom frames in various styles that look like artwork.
Lighting Control
Activity-based light scenes such as cooking, entertain and clean-up are easily activated from your table top or wall-mounted touch panel.
Linear Lighting
Add efficient task lighting and aesthetic appeal with linear lighting solutions for under-cabinet illumination and ceiling coves.
Motorized Window Treatments
Easily manage solar heat gain to reduce energy consumption and UV rays. Preserve furnishings and artwork while still enjoying the sun's natural light.
Multi-room Music
Stream your music into the kitchen and dining room while family members listen to their music in the living room, garage and outdoors.
Lighting Control
Schedule your bedroom lights to an astronomical timer to take advantage of natural lighting during the day and gradually brighten as the sun goes down.
Motorized Window Treatments
Wake up naturally with gradually rising shades in the morning to let in sunlight. In one touch, effortlessly lower shades for privacy and better sleep.
Multi-room Music
Awake to your favorite energizing playlist, then automatically unwind to a peaceful audio collection before bed.
Security / Monitor
Stay safe and secure and see video doorbell and security camera views on the large-screen TV from the comfort of your bed with the touch of a button or a voice command
TV / Display
Enjoy all your favorite entertainment with a TV or display optimized for your bedroom environment. Use custom framing and concealment options to match your decor and style.
Smart Home Controls
Manage your smart home from bed with a bedside touchscreen or your personal smart device. Arm your security system, control lighting and shading, and select and play music from a single, intuitive interface with just a few taps.
Smart Home and Media Controls
Impress your guests with one-touch scenes that adjust the lighting, set the music and turn on the game for an evening of merriment.
Multiple TVs
Easily switch up the entertainment from Netflix to Playstation and more with one-touch control of your 4K-compatible video sources.
Lighting Control
Transform the ambiance to complement any get-together, from a lavish cocktail party to a relaxing afternoon of playing pool.
Lighting Design
Elevate your space and highlight your art and style with smart, tunable lighting and LED fixtures. Bring out texture and vibrancy in furniture and furnishings and set the perfect ambiance for your game room with tuned color and white light temperature.
Invisible Speakers / Audio
Enjoy music, TV, and gaming with the best audio quality from speakers you hear but don't see. From stereo to surround sound, enhance your entertainment with architectural speakers that don't impinge on decor.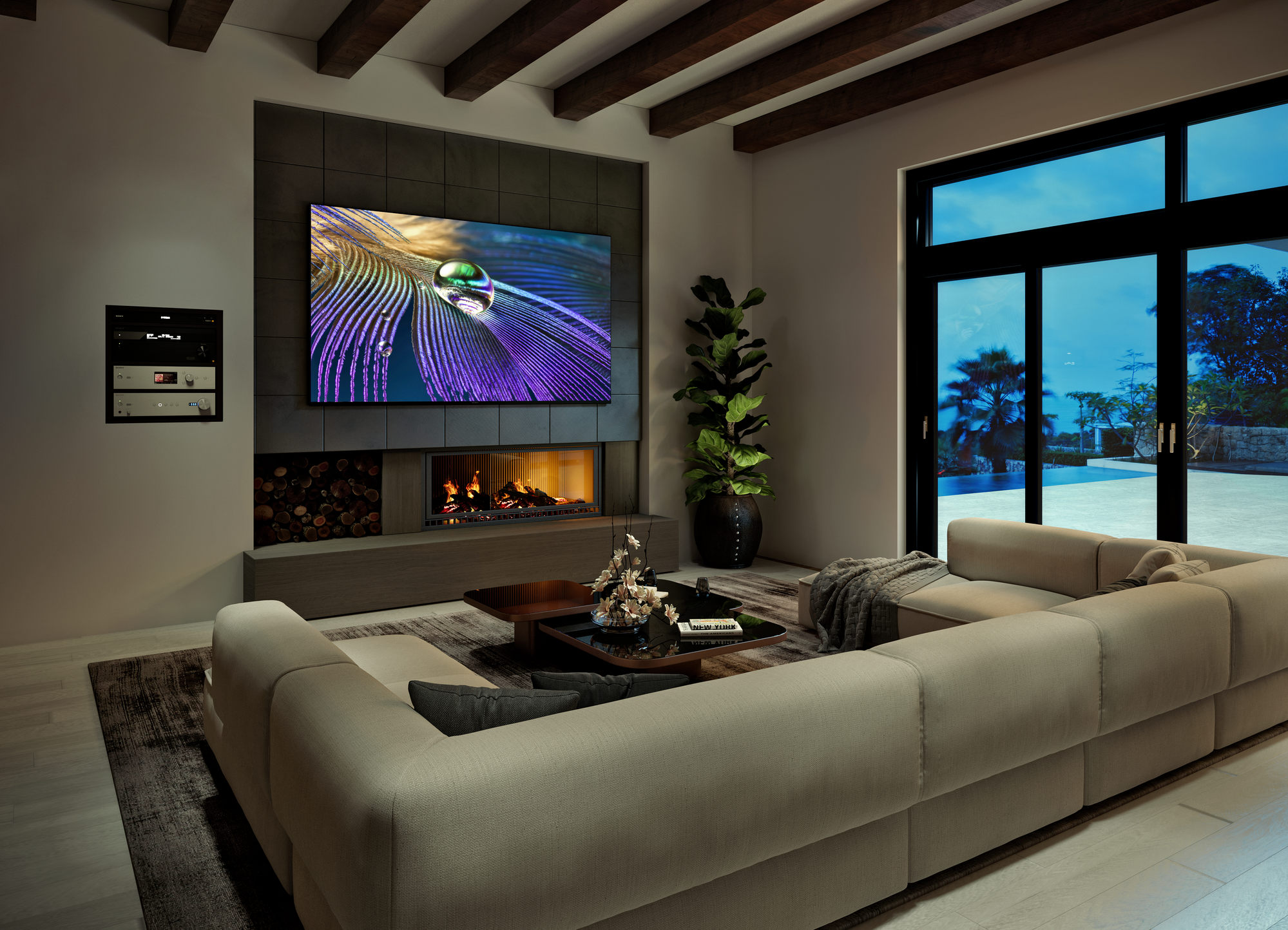 Smart Home Control
Transform your media room into an exhilarating home theater with just a simple button press that fires up speakers and sets the ambiance for movie night with your phone right from the comfort of your couch.
Media Control
Effortlessly activate media scenes for any affair, from "Party Music" to "Movie Night" and more. When it's time, turn everything off in a tap.
High-Performance Audio
Delight in audio sources both new and old through a high-fidelity speaker system that creates a beautiful soundscape for any audiophile.
TV / Display Technologies
From sports to movies to gaming, make all your entertainment come to life with large screen displays. From large TVs to LED walls to short-throw projection, options abound for cinematic-style viewing experiences in your home.
Lighting Options and Control
With just one touch, set the ideal ambiance for your entertainment with custom lighting scenes that dim the lights to precise levels. Highlight room features and unique artwork and furnishings with warm white or color tuned light.
Lighting Control
Continue to enjoy your outdoor experience illuminating your patio and landscape with just a touch. Effortlessly customize dimming levels to create the striking ambiance you love while increasing security.
Weather-Proof Video Displays
Bring the entertainment outdoors with weather-proof, anti-glare 4K video displays that resist the elements for uncompromising clarity and brightness.
Outdoor Audio
Stream your media collection outdoors with weather-resistant, high-fidelity speakers that blend in with your patio décor and offer unlimited hours of listening pleasure.
Landscape Speakers
Create the soundscape for all your outdoor activities with landscape speaker solutions. Buried subwoofers and low-profile satellite speakers blend with your landscaping to produce even, rich sound throughout your yard or outdoor space.
Get Started
Whatever your vision, we're here to make it happen. Contact us today for more information and next steps.