Residential Partners
SMART BRANDS FOR SMARTER LIVING
We partner with world-class manufacturers to add comfort, convenience, and ambiance to all residential projects. Meet the brands you'll be proud to welcome home.
Experience personalized control for your unique lifestyle with the power of Salt Lake City-based Control4. Connect virtually any device in your home or business to work together, and command them all with customized one-touch controls and scenes from your system remote or smart device of choice. Whether you're home or away, Control4 home automation gives you the power to command and monitor your estate or business in one platform. The transformative benefits of a smart connected home and business with Control4 delivers convenience, peace of mind and an efficient environment that's comfortable and safe.
As the first home automation company to embrace mobile technology for control inside and outside the home, Savant is a leader in innovation. The brand helps to cultivate the ultimate luxury lifestyle with personalized control of your entire home, business or yacht from an intuitive mobile app, high-resolution touchscreen, elegant remote or by voice activation. Savant offers any user the unparalleled convenience of controlling your lighting, climate, entertainment, pool and spa, security and more from a single platform no matter where you are. Set distinctive scenes that mold to your every mood and transform your home into a coveted entertainment hotspot at the touch of a button. Whatever you imagine, Savant can help make it a reality. And as your trusted Savant dealer in the Dallas, TX area, Texadia Systems can bring this vision to your home today!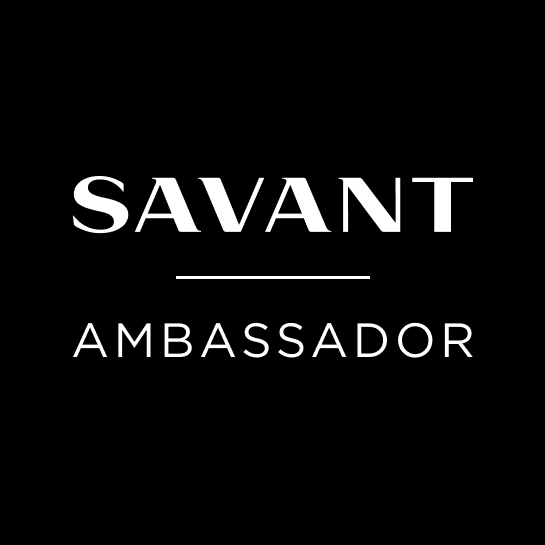 Introduce natural light into your spaces with low voltage, tunable LED lighting from Ketra. The Texas-based company was founded in 2009 and offers the world's most advanced lighting systems, drenching residential and commercial spaces in the widest range of pristine whites and vibrant colors from a single source. Conjure the warm glow of an incandescent, the cool of moonlight or effortlessly create your own colors with advanced Dynamic Spectrum control. Ketra not only adds beauty to your spaces but encourages improved productivity and relaxation with human-centric lighting that mimics the sun's rays. Command your Ketra light bulbs and fixtures from the convenience of your smartphone or wireless keypads or integrate Ketra with the rest of your smart home through the Lutron HomeWorks QS luxury automation system.
Light Can Help You is a fully distributed team of lighting professionals working in virtual studios to deliver exceptional lighting design across the North American continent and beyond. We leverage cutting-edge digital technologies to accelerate our process while preserving the hand-crafted individuality that reflects our clients' unique needs. The end results are beautiful, functional spaces delivered to clients across a wide range of budgets and locales. Lighting layouts, characterized by circles on plans in tidy geometric grids, deliver enough light to meet building codes –essentially the lowest level of lighting required to be legal. Lighting designers go beyond layouts to consider client needs, budgets, locations, styles, and add in a deeper understanding of the science, technology, psychology, and physiology of light and the human body. We use different light fixtures, put them in different places, and ask them to deliver different outcomes. The results help our clients wake gently, move energetically, relax easily, and rest deeply, all in a beautiful and comfortable environment after dark.
Inventors of the solid-state dimmer in 1959 and now holders of 2,700 worldwide patents, Lutron has expanded their product offering to more than 15,000 products. Lutron makes it possible to craft the perfect atmosphere at home or in the workplace to complement your day-to-night activities with personalized lighting and shading control for enhanced comfort and productivity. Recall your favorite settings from a master keypad or remote to easily transform your environment with just a tap or set your lights and shades to adjust on their own so you can focus on the activity at hand. From the workplace to the home, Lutron provides sophisticated solutions for custom lighting and shading that operate seamlessly at your command.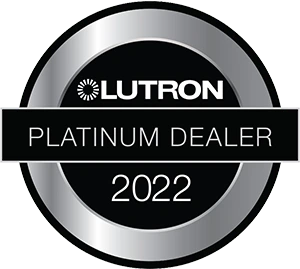 DMF is a nationally renowned company famous for designing and manufacturing easy-to-use downlighting solutions for residential and commercial environments. 30 years after it was founded out of a garage in southern California, it now boasts a national chain of warehouses and suppliers to deliver stellar LED lighting solutions wherever they're needed. Having the right light quality is vital to creating successful environments for work, relaxation and play. Easy-to-use OneFrame, SquareFrame and DCD modular mounting systems allow for varied designs featuring recessed, surface mount, wall mount, cylinder and pendant fixtures. Enjoy the perfect indoor and outdoor lighting for any occasion with fixtures ranging from 750 to 9000 lumens and warm dim technology that lets you enjoy the entire light spectrum of cool and warm hues.
As the largest U.S.based linear low-voltage lighting provider, Elemental LED manufactures an unparalleled catalog of linear, accent, and task LED lighting with CRI and R values that offer flawless and vibrant high-fidelity color rendering. Elemental LED holds several patents in fields including optics, electrical circuitry, power, and LED light engines and takes pride in being more than a mere lighting company. Engineering and technology are at the essence of every innovation to craft incredible LED lighting products. Diode LED is the Elemental LED division for LED tape lights, drivers, and accessories for businesses. The Lucetta division is the gold standard for architects, lighting designers, and interior designers for high-performance linear lighting. Together, Elemental LED's product catalog is staggering with non-stop lighting meant to change the way people feel and go about their daily life.
Coastal Source stands for something radically different from mass-marketed landscape lighting and outdoor audio products. Their mindset is "do it once, do it right." Rather than creating solutions that inevitably fail over time, Coastal Source designs and engineers high-end landscape lighting and outdoor audio solutions that are created for superior function and durability—even in the harsh salt spray of coastal environments. Founded in 2003 and headquartered in New Jersey, Coastal Source combines more than 50 years of hands-on industry experience to deliver a patented landscape lighting system that features bullet lights, path lights, well lights, step lights and more that withstand the elements and enhance pleasure, safety and curb appeal. Their high-fidelity outdoor audio products feature 2-way and 3-way ellipse bollards, modular bullet speakers and concealed rock speakers that deliver rich, full coverage while blending into your gardens and foliage.
Established in 1999 by audio engineers and craftsmen, James Loudspeaker takes pride in its commitment to innovation when designing high-performance audio solutions. Headquartered in San Francisco, the company offers lines for luxury homes, marine applications and enterprising businesses alike. Through cutting-edge technology and flawless designs, their products provide unprecedented sonic performance in both indoor and outdoor environments. James Loudspeaker products emphasize aesthetics to deliver powerful sound with a nonintrusive presence. Loudspeakers from all lines include ultra-slim driver technology, adjustable frequency distribution and quad-tweeter arrays. All James Loudspeaker customers receive personal support to ensure a solution that satisfies all of their performance needs. The company offers a wide range of in-wall, in-ceiling, under eave, landscape, bookshelf and loudspeaker models. James Loudspeaker was acquired by San Clemente, CA based Sonance in late 2019. Sonance and James will continue to operate as separate companies while the combined team learns what makes each brand unique. Over time, Sonance will identify areas where the strengths of both companies can be leveraged to provide maximum value to their combined customer base.
Each Sonus Faber speaker is not only a handmade musical instrument but an exceptional work of art. Producing the purest sound through natural materials and individualized tuning by ear, each model has delivered "the Voice of Sonus Faber" since the company was founded in 1983. Their speakers showcase the traditional craftsmanship of Italian artisans offering the same precision used when building the world's most famous musical violins. The "Made in Italy" expectation is there as well in the elegant aesthetics that make Sonus Faber a focal point of your home décor. Speakers come in various polished finishes, including wood, metal gray, white and black. Their wide range of reference loudspeakers, bookshelf speakers and wireless speakers exemplify the pinnacle of hi-fi sound for a wide range of applications.
Origin Acoustics leads the industry in high-fidelity architectural speaker solutions that redefine your auditory experience. Enjoy pristine sound from any angle in your home or business with Origin's in-wall and in-ceiling speakers that intelligently pivot to focus the sound at the designated listening area. Installation is seamless, accomplishing sightless audio from discreet grilles that blend into your décor and deliver astonishing sonic performance when you want it. From your bedroom to your yacht and even the outdoors, Origin has a delicately crafted speaker system for any place you desire.
Established in the early 1980's, Southern California-based Dana Innovations is the parent company of Sonance, iPort and TRUFIG. Sonance specializes in designing high-quality audio systems for luxury homes and businesses that work in virtually any environment, from in-wall and in-ceiling to expansive outdoor landscapes and more. Enjoy sightless surround sound that immerses you into your favorite blockbuster film or musical soundtrack with discreet speaker solutions that complement any indoor décor or hide evenly throughout your gardens and foliage. With Sonance, delight in immaculate sound with minimal visual impact thanks to the beautiful blending of technology and aesthetics. Further expanding on its commitment to luxury sound, Sonance acquired James Loudspeaker in 2019. The acquisition allows Sonance to leverage James Loudspeaker's innovations in the areas of custom and architectural audio to create high-performance, bespoke solutions for its clients.
Elevate your expectations of home entertainment with Samsung's most innovative and advanced range of televisions that offer an impeccable visual and auditory experience for film and gaming enthusiasts alike. Samsung's proprietary Quantum Processor is the mastermind behind their unrivaled QLED 4K and 8K TVs that display a depth of detail, contrast and realism never seen before. Even when not in use, Samsung displays add beauty to your home by transforming into framed artwork or blending into the decorative pattern on your wall, elevating your space while turned on and off.
Delight your senses with professional-grade home entertainment solutions designed to harmonize both picture and sound for a breathtaking, true-to-life experience. Unprecedented contrast, color and realism are made possible with Sony's proprietary technologies that also lead in pixel-by-pixel detail for texture you can practically feel. Whether you're outfitting a multi-purpose media room or a dedicated private cinema, Sony's line of premium 4K HDR projectors and TV displays, AV receivers and high-resolution speakers work in tandem to craft the immersive experience intended by film and video game creators.
Inventors of the solid-state dimmer in 1959 and now holders of 2,700 worldwide patents, Lutron has expanded their product offering to more than 15,000 products. Lutron makes it possible to craft the perfect atmosphere at home or in the workplace to complement your day-to-night activities with personalized lighting and shading control for enhanced comfort and productivity. Recall your favorite settings from a master keypad or remote to easily transform your environment with just a tap or set your lights and shades to adjust on their own so you can focus on the activity at hand. From the workplace to the home, Lutron provides sophisticated solutions for custom lighting and shading that operate seamlessly at your command.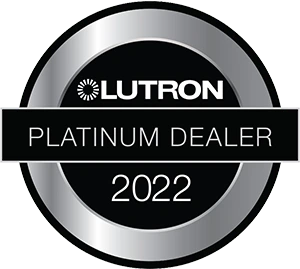 Draper works to customize and design the perfect solution for every customer. Founded in 1902, Draper offers high-end audiovisual displays, shading solutions for both the indoors and outside, residential and commercial spaces, and gymnasium and athletic equipment. Intent on listening to the customer's needs, Draper's goal is to always serve what you want and prefer for your project - and then work to exceed every expectation. With trusted expertise and knowledge of each industry, Draper delivers reliable and high-performance solutions for every comfort and need across the home, gymnasium, and beyond.
RoseWater was founded in Florida in 2012 to address the deteriorating quality of the nation's power grids through tailor-made energy management and storage solutions. Microprocessors for voice control, smart home automation, streaming and more require high-quality, reliable power to perform. Faulty municipal grids can damage these processors through outages, flickers and voltage fluctuations. Optimizing energy use through renewable energy grids and battery storage is made possible through RoseWater's energy storage systems for both residential and commercial consumers. Their flagship HUB SB20 Energy and Storage system integrates power conditioning, uninterruptible power supply, industrial-grade surge protection and battery backup. It works for residential and small commercial applications and easily integrates with solutions from industry-leading manufacturers across the globe.
Scalable Savant Power Systems paired with the Savant app, delivers you full control over time-of-use pricing, off-grid energy independence, and backup power sources including automatic generators. The Savant Power System offers a variety of integrated and scalable solar inverter and battery storage solutions through partnerships with industry leaders like Sol-Ark and HomeGrid, powered by Lithion. Savant offers storage solutions that can meet the needs of any size job, available in convenient packages that include everything needed for a smooth, hassle free install. Savant Power Systems are designed to scale, delivering the benefits of smart power to every home. Monitor a few main, power-hungry circuits or monitor every circuit in the home - the choice is yours. Best of all, Savant Power System Modules are installed in standard electrical panels, no hard-to-find proprietary panel required.
Alarm.com is trusted by millions for better home and business security, intelligent automation and dependable service. When founded in 2000, Alarm.com launched the first interactive home security solution, offering homeowners a revolutionary way to manage and monitor their security systems from anywhere. Since then, Alarm.com has led the market with new smart home and business capabilities, enabling the control and automation of thermostats, locks, lights and more. Headquartered in Fairfax, Virginia, Alarm.com offers solutions ranging from interactive home and business security to advanced video surveillance and monitoring, remote access control and home automation. With Alarm.com, stay connected to what matters most to you: your family, home and business.
With experience as an IT director for a high-end home automation company and beta-testing enterprise-grade products for companies like CISCO, Bjorn Jensen founded WhyReboot in 2010 to deliver commercial-grade networks for automated residential, commercial and marine systems. WhyReboot networks provide unified threat management, high-speed switching, expansive wireless performance and comprehensive router broadband capabilities. Explore exactly how coverage works with heat maps showing where access points are located and why they're needed. All network designs include remote access to monitor and resolve issues, along with next-day replacement of gear. Customer service is at the heart of all projects, with WhyReboot offering lifetime warranties along with 24/7/365 white glove Support.
Residential Partners
Discover the brands that we call partners for our residential projects. They form the foundation of our product specifications thanks in part to their best-in-class performance, breadth of product offering and ongoing technological innovation.
Start Your Journey to Smarter Living
Connect with us to learn more about how these industry-leading brands work together to create your dream smart home or business.